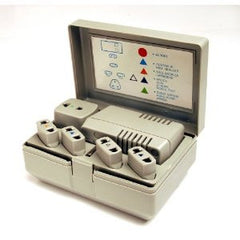 VM 3 International Travel Converter / Plug Adapter Kit
Weight : 2 lbs
Dimension :

4" x 5.5" x 2.75"
World-wide Foreign Travel Converter Kit - Provides for your electrical traveling needs in most foreign countries.
Converts the overseas 220V power to 110V USA power.
Allows the use of American 110V products overseas with 220V power in most foreign countries.
Dual Wattage Low & High setting for 50Watt/1600 Watts.
This kit is for the light duty travel products whose rating is 50 watts - 1600 watts.
50 watts is designed for Blackberry, phones, Cameras, iPods, razors, shavers, tape recorders, calculators, radios and other battery chargers.
1600 watts setting is for hair dryers upto 1600 watts, electric blankets, bottle warmers, etc.
DO NOT use this light duty converter with Household appliances, heating appliances, hair straighteners, laptops or power tools.
Related Products