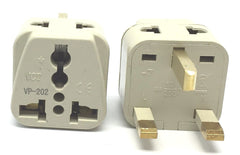 VP-202W 2-in-1 Two Outlet USA to UK, Hong Kong, Singapore Universal Travel Plug Adapter
High quality two outlet grounded universal plug adapter for UK, Hong Kong, Singapore, Nigeria and Middle East.

Enables you to connect two electrical devices in one Plug adapter - very convenient to use multiple products from one wall outlet specially in the hotels.

Converts plugs from any country(except S.Africa plug).

CE Certified RoHS Compliant

NOTE: Only ONE Adapter per pack. The picture shows the front and back of the Adapter.
Related Products