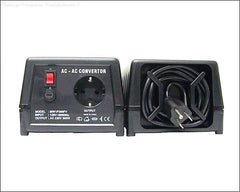 VT 1P-300GS - 300 Watt Step Up Transformer 110V to 220/240V
Weight : 9 lbs
Dimension : 7.5" x 4.75" x 4"
This is a Step-up Voltage Converter with a GS German Shucko Grounded Plug Receptable.
Accepts grounded German Shucko Plug.
300 Watts Maximum Capacity.
ON/OFF switch built-in.
Converts 110/120 volts to 220/240 volts.
This has a grounded power cord hard wired with grounded american plug.
Easy to carry & heavy duty casing.
Fuse Protected.