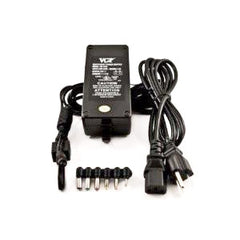 VM-1245 AC/DC Converter for 100V-240V AC to 12V DC, 4.1 Amp
Weight : 1 LB
Dimension : 5.2" x 2.5" x 2"
Switching AC to DC Class 2 Power Supply
Input: 100 - 240V, AC
Maximum load:Can be used for 0mA to 4100mA or 4.1 Amp.
Output: 12V, DC
Output: 12V DC.
With Changeable Polarity
6 Detachable Plugs as shown
Comes with Multiple Tips - Pin Size: 2.35x0.75mm, 3.5 x 1.35mm, 5.0x1.5mm, 4.0x0.17mm, 5.5x2.1mm, 5.5x2.5mm .
For indoor use only - Not Waterproof.
X