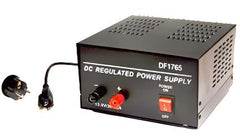 DF-1765 Universal AC to DC Converter Output 12V-13.8V DC, 20 Amp
Weight : 18 lbs
Dimension : 12.5"x 8.5"x 5.5"
This unit converts 110/220 Volt AC to Fixed 13.8V DC Power.
Enables use of 12 Volt DC automobile, mobile equipment, and portable equipment with household AC power
Ideal for household transceiver, automobile/mobile equipment, and portable equipment
Input Voltage: 110V AC or 220V AC
Output Current: 13.8V DC - Max: 20 Amps
10% Load Regulation
5% Voltage Regulation
Applies Current Limit Short Circuit protection for DC output.
Current Limit Protector for AC Input
One Hour Continuous use at full load
PLEASE MATCH THE INPUT AND OUTPUT OF YOUR EQUIPMENT CAREFULLY WITH THIS TRANSFORMER.
WE DO NOT TAKE BACK THESE TRANSFORMERS ONCE THE UNIT IS OPENED AND INSTALLED.