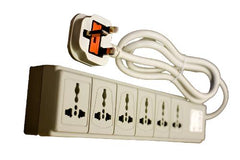 USP-600UK Universal 6-outlet Power Strip/Surge Protector 110v/220v/250v,15 Amp, UK Plug
Weight : 1.5 LB
Dimension : 

14" x 2.5" x 1.5"
This filter Surge Protector is designed to protect your equipment from the surge and peaks which can damage your equipment in time.

110V-250V Surge protector for Worldwide Use. Note: Will work with only Single Phase 220-250 Volts

Input Voltage-100 volt-250V. Maximum Capacity 15 Amps 

3750 Watts Circuit breaker

Compatible with both 50 Hz/60 Hz

6 gang universal grounded outlet extension set w/ window shutter 

Universal outlets accept plugs from any country except S.Africa.

Lighted ON/Off switch. With 6 ft. cord wired with grounded 3 pin Grounded UK Plug. 

Circuit breaker 3750 Watts

Dissipation: 1400 Joules

Made of incombustible plastic material.

Response Time: <1 nanosecond="" with="" emi="" rfi="" noise="" filtering:="" 100khz-20mhz="" li="">
EMI/RFI Noise Filter Eliminates the electromagnetic and radio frequency inferences.