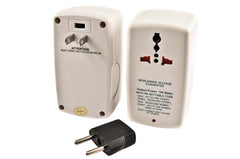 SMF-100 Universal 110V/220V/240 Volt Travel Voltage Converter, 100W
Stay connected when traveling off-shores! Universal travel voltage converters keep your equipment charged for action. We enable you to gear up for the journey with high quality converters from the leading manufacturers of the world. Buy a converter to keep using your appliances with ease throughout the trip.
Weight : 1.7 LB
Dimension : 4.1" x 2.3" x 2" 
100 Watt Dual Voltage Converter For Worldwide Use. Universal Outlet Accepts Plugs From Any Country(except S. Africa)
Use In USA or Any Foreign Country Worldwide - 110V/220V/240V
Adapter for Europe Included , adapter for UK/Ireland, Australia to be bought separately
Ideal For Use with Light Portable Equipment like iPod's, Phones, Cameras, CD Players etc.
Re-settable fuse
Led Indicator
DO NOT USE WITH laptops, tools, game consoles, kitchen appliances, hair dryers, flat irons or other heat producing appliances.
Do not connect a multi-outlet power strip into this converter
Related Products