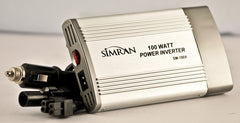 SM-100X Pocket Size 12V DC to 110V AC Power Inverter, 100Watt
Weight : 2 lbs
Dimension : NA
Converts 12V DC Battery Power to 110V/120V AC Household Electrical Power.
Maximum Capacity: 100 Watt
Operate from your car, truck, boat, SUV or RV.
On/Off Switch
One Universal Power Outlets aacepts plugs from all countries except Big S.African Plug
Auto Shutdown Protection this feature protects the unit against overload, short circuits, overheating, and low/high battery conditions.
Suitable for digital cameras, cell phone chargers, boom boxes/stereos, portable DVD players, laptops and more.
Adjustable Cigarette Lighter Plug - Accomodates Different Lighter Socket Size.